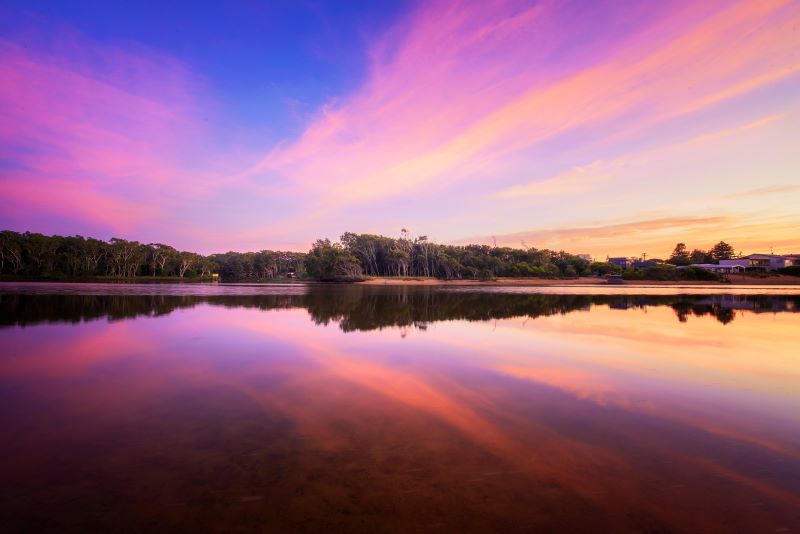 Avoca Beach is a relaxed beachside town with a strong surfing community, located on the Central Coast, NSW.
The beach is split from its northern neighbour North Avoca by Avoca Lake, a peaceful recreational still-water retreat with pleasant walks and picnic areas. Having one road in and out of Avoca Beach makes this a safe and mostly quiet town. The warmer weather brings an influx of visitors and tourists to this gorgeous beach, a beautiful holiday destination for a beach holiday.
Apart from the beach, the town also offers a large children's playground, tennis courts and sports oval for family fun and games. The lake offers Aqua Fun where you can hire pedal boats, paddleboards and kayaks. On the 13th of April 2011 the Ex-HMAS Adelaide was scuttled 1km off shore at Avoca Beach and is now available for divers to explore.
Avoca Beach is also known for its historic picture theatre, which was built in 1951 and is still operating today. There is also a surf lifesaving club, art gallery, teahouse and bowling club to keep you entertained. The main shopping strip contains a variety of restaurants which specialise in Thai, Malaysian, Indian, Italian and Chinese cuisines. But a seaside town is not complete without a fish & chip shop, an array of cafes and a pub, of course!
Original inhabitants of the land were Awabakel Aborigines; the first Caucasian to occupy the land was Irish Army Officer John Moore in 1830. The town was originally named Avoca, Celtic for "Where the river meets the sea".
View Property

Salt Deck

305668630225015516000EF

5

Bedrooms

3

Bathrooms

10

Sleeps

Radiating a magnificent 'Hamptons' vibe and offering uninterrupted point to point beach and ocean views, Salt Deck is a truly remarkable residence within the prestigious…

View Property

Osprey House

305668630225015516000CR

4

Bedrooms

3

Bathrooms

12

Sleeps

From the moment you walk through the front gate, you will be instantly immersed in the magical setting of this property.