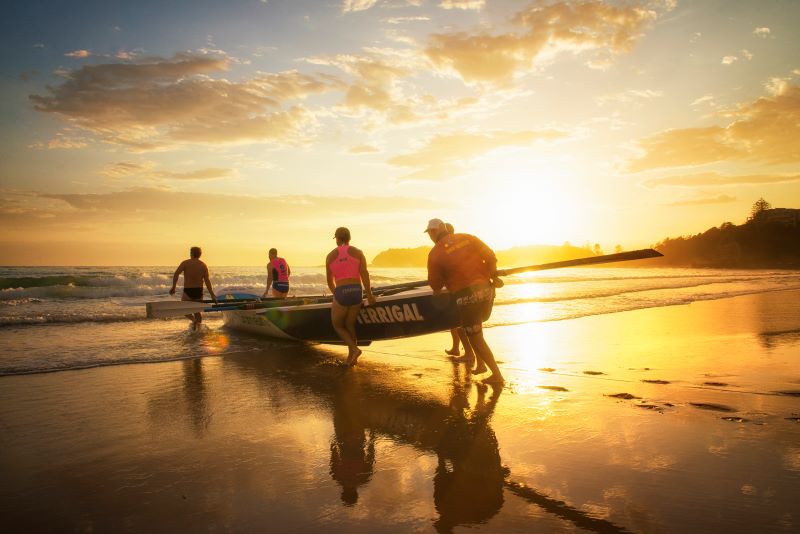 Terrigal accommodation will put you right in the heart of a major coastal town on the Central Coast. Terrigal is renowned for its pristine beach, lagoon and relaxed vibe. Its unique shopping strip known as The Esplanade contain boutiques, home wares, cafes and some of the finest restaurants that the Central Coast has to offer. Fine dining cuisines include Thai, Indian, Italian, Greek, Japanese, French, Mexican and award-winning seafood takeaway shops.
First settled by caucasians in 1826 when European settler John Gray and wife Amelia Willis moved to the area. He called their property 'Tarrygal', an indigenous Aboriginal name meaning 'place of little birds'. Today Terrigal has a thriving Surf Life Saving Club, football and cricket clubs and is now home to approximately 9,500 people.
Terrigal once had two lagoons but one has since been filled in to make way for traffic. The lagoon is a popular place to splash about or for the adventurous paddle boats and stand-up paddle boarding are a must. Terrigal is close to local putt-putt and golf ranges, aquatic centre, shopping centres, pubs, clubs and restaurants.
For decades Terrigal's large headland the Skillion, located in The Haven, has been a well-known landmark to tourists and locals alike. Each year Terrigal hosts a local food and wine fair in the Haven. Divers also leave from this point to explore the scuttled Ex-HMAS Adelaide which is around the Skillion's headland on the bottom of Avoca Beach.
Oceans Edge Penthouse #15

305668630225015516000FO

Terrigal

3

Bedrooms

2

Bathrooms

6

Sleeps

Perfectly located for holidays in the very heart of the cosmopolitan seaside hub ofTerrigal.

The Rise Penthouse

3056686302250155160009U

Terrigal

3

Bedrooms

3

Bathrooms

7

Sleeps

The ultimate in contemporary sophistication, The Rise Penthouse bares stunning ocean views. 350m to the beach.

Oceans Edge #7

305668630225015516000G5

Terrigal

3

Bedrooms

2

Bathrooms

7

Sleeps

Enjoy Oceans Edge #7. Moments to Terrigal's golden sands.